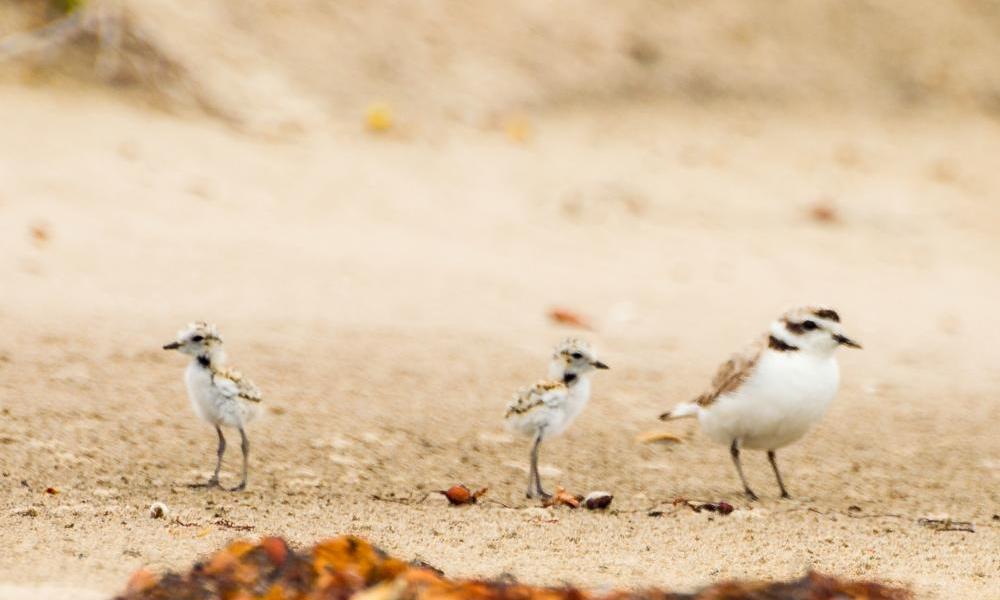 Program Overview
The Snowy Plover Docent Program was created to educate beach visitors about the biology and conservation efforts to protect the Western Snowy Plover. After the program was initiated in 2001, Coal Oil Point Reserve became the first place to restore a nesting site that had previously been abandoned. Docents teach beachgoers what they do can help to protect Sands Beach as a safe and healthy habitat for the plovers. Our goal is to balance beach access and recreation for visitors with protecting the Snowy Plovers and other native fauna. The success of the Snowy Plover Docent Program is a result of the commitment from our dedicated volunteers and interns. This program runs year-round and both volunteer opportunities and paid internships are available. Paid internships are generously funded by UCSB Coastal Fund and all UCSB students are eligible to apply.
Docents provide education in the following ways:
Interpret reserve rules for beach users
Share information about plover biology
Help beach goers identify plovers and other shorebirds
Encourage questions and learning about conservation on all levels
Docents also provide protection for plovers and their chicks and nests. They:
Ensure that the boundaries of the sensitive habitat are respected
Make sure that dogs are with their owners and leashed at all times
Discourage disturbance or predation by crows and other predators
Time Commitment
We request that volunteer docents commit to a 2-hour shift on the beach every week.
Paid interns commit to several shifts a week for each quarter of their internship.
How to Get Involved
To become a Snowy Plover Docent, you must attend a 6 hour training course. This includes:
2 hour classroom-setting instruction
2 hour 'on-the-beach' training or practice shift
2 hour guided tour of Coal Oil Point Reserve
If you would like to find out more about the Docent Program, or would like to volunteer your time and become a Plover Docent, we would like to hear from you! The more docents we have, the better we can protect the beach. If you are interested in becoming involved, but the "docent" work is not for you, please do not be discouraged. There are many other ways to help. There is constant need for community outreach, office assistance, programming, design, and art, to mention only a few.